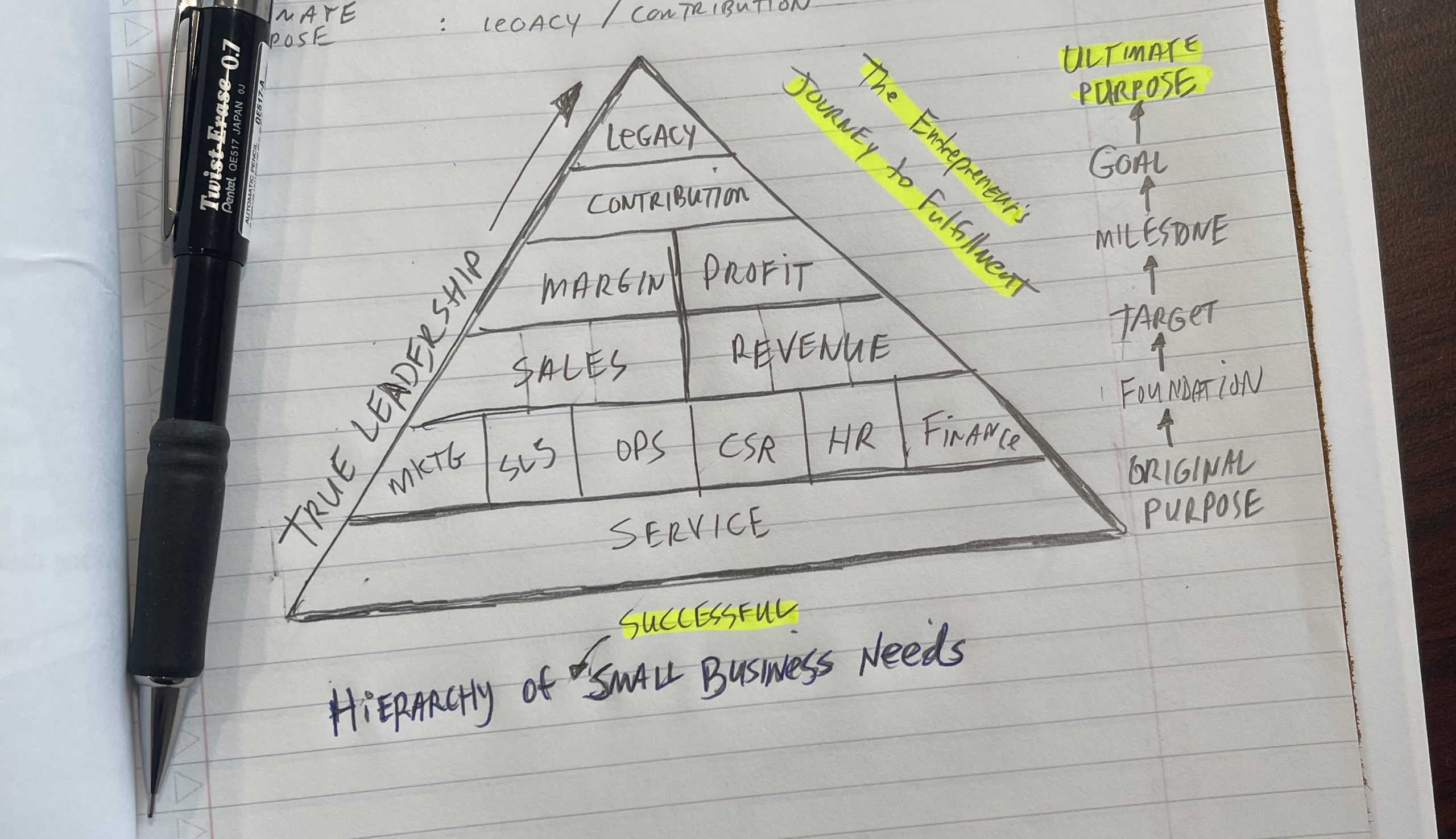 The Ultimate Purpose of your Small Business
This morning (in the shower), I was struck with this image. And while it was a little fuzzy and conceptual in my mind, it took me just one draft to manifest it on paper. And I suspect it will fuel me for years to come.
I don't want to just sell windows, I want to change lives. This is my purpose…helping our dealers to follow this path, and thus creating my own.
In some ways it's a selfish endeavor. But I can't tell you how gratifying that pursuit can be…to try and create a true win-win. Helping others grow a business, and in turn growing my own.
If it sounds corny, or like a sales pitch…great. You can keep your skepticism and move on. But the top of my pyramid comes from building a legacy through contribution. I love helping others build a home improvement business, and realize their own ultimate purpose.
And part of why I love it so much is that I truly believe it's the only thing that can save us. (here's where I get philosophical)
Start a small business. Better yet, teach your children how to start a business. And in turn, teach them the fundamentals of LEADERSHIP.
Creating young LEADERS is the only way to course-correct.
If you're still reading this, you can feel it. You feel the decline in our morals and direction and priorities and purpose.
How are our children being influenced today?
They need the be taught the principles of leadership. And for me, there's no better training ground than building a small business.
I'm sure I'm biased, as I've spent the last 30 years pursuing this entrepreneurial path. But I find that the lessons I've learned in those 30 years are directly and astoundingly applicable to life.
If you feel remotely the same…then join us.
Join us on a journey to build a business that is successful in both profits and contribution. Join the Window Depot USA network and learn, share and grow with others. 
If I can be of any help, please contact me.
More Articles HERE
PS – If you're reading this blog, chances are that you're a home improvement entrepreneur.  So my question:  Why do this alone?
Why not join a group of like-minded people that share ideas and best practices, that negotiate together and help one another generate leads?  And there's so much more!  I hope you'll explore our website further.
I want someone to contact me, right now!
The right Products for your Market

Becoming a Window Depot USA dealer means access to high quality products, at nationally negotiated prices.  Our motto of "National Strength, Local Service" isn't just a catch phrase.  Imagine being able to offer homeowners in your area the very best value available, because of your acquisition price.  Learn more about our products.
We're here to Support YOU
When you join Window Depot USA, you'll be supported by a strong corporate team that is vested in your success.  We offer training and support in nearly every aspect of your business.  From Marketing & Sales to Operations and Finance.  We're here to help you succeed, at every level.  Learn more about our Support.
The right PARTNERSHIP Approach
Window Depot USA is an official Licensing Program.  What does that mean?  It means that unlike a franchise, we don't charge huge up front fees, and we don't take a portion of your company profits.  Instead, we act as a buying co-op...allowing you to put more money into your marketing, sales and bottom line.  Learn more about our Approach.
I want someone to contact me, right now!