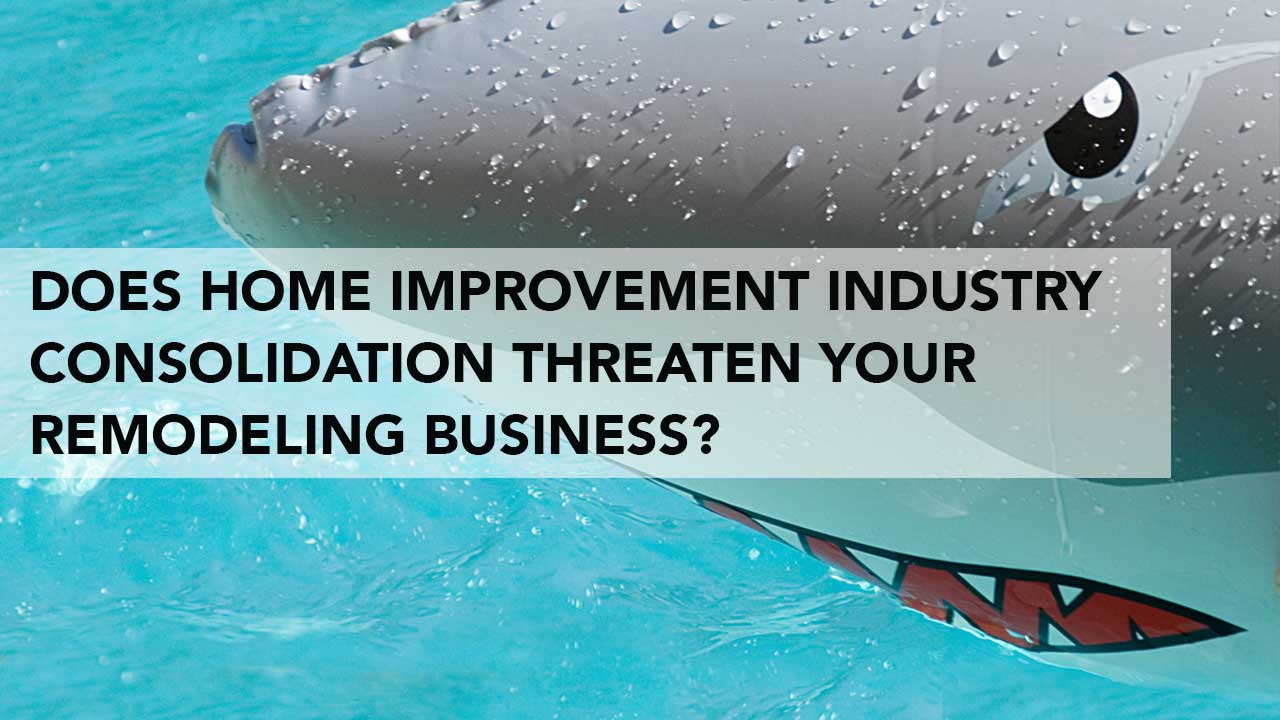 Does Industry Consolidation Threaten Your Remodeling Business?

Did you hear about the recent acquisition of Mad City Windows by FHIA Remodeling? With that acquisition, FHIA (already the #4 largest company on the QR Top 500) will exceed $300MM in annual sales.
Have you been paying attention to the investment activities by Power Home Remodeling? Just recently, the $700MM behemoth purchased a $5MM building in Tempe, Arizona and plans to employ 200 people.
Here's my question for you:
What happens when they come to your town?
$700MM in sales affords a pretty nice marketing budget, no?
Maybe these companies are already in your town…that's fair.  Here would be my follow up question:
What's your plan to compete with them?
What we're seeing, is the consolidation of a maturing industry.  We have private-equity-backed firms acquiring home improvement businesses to gain marketshare, and to capitalize on a fragmented marketplace that has few true brand name players.
And why wouldn't this happen?  It happens all the time, to a bunch of other industries.
Here are some quotes from a Harvard Business Review article entitled "The Consolidation Curve":
"Everyone knows that most new industries are fragmented and consolidate as they mature."
"Slower firms eventually become acquisition targets and will likely disappear.  Most companies simply won't survive to the endgame by trying to stay out of the contest, or worse, by ignoring it."
Here are some facts, my friends:
1. Our industry is still "new"…by historical standards.
2. We've all witnessed the consolidation of window manufacturing businesses for the last 10-15 years.
3. Marketing and customer acquisition has changed radically in the last 10 years.  No longer do the only brand names we've ever had in this industry (Pella & Andersen) need to dominate the consumer discussion.
4. "Big Money" has noticed that there is significant opportunity to consolidate retail home improvement.  They realize how fragmented each marketplace is…and recognize the opportunity to gain market share at will…by out-growing and out-spending YOU.
Think about it…  How does your company compete with a BILLION dollar home improvement company.  One that has the funds to fully leverage technology, ground warfare and mass media branding to influence our consumers.  You know, those homeowners who know very little about our products…but often just respond to the only names they've ever heard of.
The bottom line is this:  If you think the marketplace is competitive right now…just wait until there's a private equity backed retail chain in your town who is leveraging national media buys to overwhelm your city with their brand message.
OK, now some Good News
The good news is that there are resources within your reach, that can help you keep up with an ever-increasingly competitive marketplace.  Let me make a quick case for joining our network… Window Depot USA.
1. We're a buying group.  We give you a better chance to buy affordably, just like these huge retailers.
2. We're building a brand…together.  At the end of the day, BRAND is still the most powerful weapon in marketing.  BRAND is where the attention goes.  And attention, especially in the Internet economy, is THE commodity of successful companies.
3. We're investing in new technologies.  It's hard for most home improvement companies to keep up with technology, let alone invest in it.
To me…the answer to competing with the BILLION dollar conglomerates, is to band together and FIGHT.  To fully leverage the concept of Strength in Numbers.  But I suppose I am a bit biased.
One last question:  With everything that's happening in the home improvement marketplace…don't you owe it to your team, your customers, your family and to yourself…to at least explore what the power of Window Depot USA PARTNERSHIP can do for your business?
I want someone to contact me, right now!
The right Products for your Market

Becoming a Window Depot USA dealer means access to high quality products, at nationally negotiated prices.  Our motto of "National Strength, Local Service" isn't just a catch phrase.  Imagine being able to offer homeowners in your area the very best value available, because of your acquisition price.  Learn more about our products.
We're here to Support YOU
When you join Window Depot USA, you'll be supported by a strong corporate team that is vested in your success.  We offer training and support in nearly every aspect of your business.  From Marketing & Sales to Operations and Finance.  We're here to help you succeed, at every level.  Learn more about our Support.
The right PARTNERSHIP Approach
Window Depot USA is an official Licensing Program.  What does that mean?  It means that unlike a franchise, we don't charge huge up front fees, and we don't take a portion of your company profits.  Instead, we act as a buying co-op...allowing you to put more money into your marketing, sales and bottom line.  Learn more about our Approach.
I want someone to contact me, right now!